[Translate to English:]
"Servicequalität" wird bei der HORNBACH Baumarkt AG großgeschrieben. Sie bildet eines der zentralen Fundamente für den langjährigen Unternehmenserfolg – nicht nur beim Kunden, sondern auch innerhalb der eigenen Unternehmensgrenzen. Um die Abläufe und Transparenz rund um den konzernweiten IT-Support zu verbessern und bedarfsgerecht auszurichten, hat HORNBACH 2015 sein veraltetes Ticket-System durch die Service Management Plattform EcholoN abgelöst. Nach der erfolgreichen Einführung im IT-Service soll die Lösung künftig auch im Logistik-Service zum Einsatz kommen. Damit kann das Unternehmen nicht nur alle Servicerelevanten Vorgänge in einer zentralen Plattform bündeln, sondern ist dank der offenen, flexiblen und prozessorientierten Systemarchitektur auch langfristig zukunftssicher aufgestellt.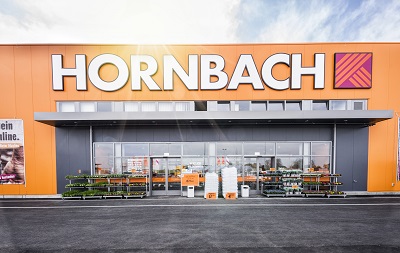 HORNBACH relies on the process-oriented EcholoN service management platform to support IT service processes.
With over 150 Hardware store branches in nine countries, the independent, family-run large company HORNBACH is one of the leading DIY megastores with garden centers in Europe. Around 17,500 employees generated sales of over EUR 3.5 billion in the 2015/2016 financial year.
Outdated service tool no longer met high requirements
A service team of 40 employees ensures the operational readiness of the IT and effective IT support for the entire workforce, which is divided into various help desk teams and manages around 80,000 processes annually. Until 2015, a proprietary ticket system was used to map the service processes, which was introduced in 1998 and has now reached the end of its life cycle. The outdated technology and the lack of interfaces made it impossible to connect external applications such as e-mail systems, ERP software or partner solutions.

In principle, mails could be sent via a mail connector, but not received, let alone managed. The lack of web access also made external access difficult. In order to align the system to the growing requirements, the IT and service team gradually developed the solution further, but with the development status of 1998 at the core, the user interface was neither modern nor user-friendly. In 2015, the decision was finally made to replace the outdated service tool with a modern, flexibly adaptable service platform.
Wanted: flexible system with high interconnectivity.
The initial approach, similar to the CRM tool used, of having your own, individual help desk solution developed externally was dropped after the first discussions with service providers due to cost and complexity aspects. In the course of an internal workshop with all process participants, all relevant requirements were first recorded, then prioritized, clustered and documented for the further tendering process. This was followed by a comprehensive evaluation phase and the comparison of the catalog of requirements with the range of services from leading service solutions. "The most important thing for us was an online self-service portal, a fully-fledged, integrated e-mail system and the option of simply attaching third-party solutions to the system. In addition, the system's flexibility to adapt to individual workflows and the price also played a key role in the decision-making process", says Thorsten Lang, IT technician and project manager at HORNBACH.
"With EcholoN we have created an integrated service platform that gives us a high degree of transparency, efficiency and security"
In the subsequent presentation phase, the offer finally narrowed significantly. While some service solutions offered too little scope for individualizing processes or masks, other, more flexible solutions could only be adapted by the development team of the respective provider. The project team finally found the future service solution in EcholoN from mIT solutions GmbH in Hamburg.


In addition to the functional and technological requirements that the system all met, the communication, transparency and way in which challenges were tackled and solved were particularly convincing. The fact that mIT solutions is a German provider with a German support or development team as well as with references in a similar constellation and size also contributed to the decision.
Going live in less than six months
After the contract was signed and the project started in summer 2015, the first basic installation of the EcholoN framework followed in October. The comfortable consistency check integrated in EcholoN brought to light small challenges of the old data stock in the course of data migration. In particular, the incorrect, incomplete or inconsistent data such as cost centers or installation locations of the IT devices that are also managed in the service tool had to be cleaned up before integration into a relational database.

Since no direct parallel operation, but a direct replacement was planned, an extensive, two-month test and fine-tuning phase should give the service teams and employees the opportunity to make suggestions for improvement. After the start of live operation in February 2016, there was another optimization phase of four weeks, where minor improvements were made to the system to ensure high user acceptance and smooth daily business.

"In this phase, the mIT solutions project team looked after us very intensively and competently, which encouraged us to have made the right decision," says Thorsten Lang.
Introduction of a self-service portal
To date, inquiries have been received via telephone, fax and email, which were then created as processes in the ticket system at the respective help desks - the option of accessing a web-based service portal has not yet existed. As part of the system introduction, a self-service portal was set up for the first time, with the help of which employees can independently create and track support requests.

The way in which emails are processed has also changed with the use of EcholoN. The mail inquiries no longer run in the mail system of all Helpdesk employees, but in a central group mailbox, where the mails are pre-filtered or classified and dispatched to the respective Helpdesk employees. For existing transactions, mail correspondence is now automatically assigned to the respective transaction. In the long term, the self-service portal is intended to establish a single point of contact ("SPOC") in order to bundle all inquiries on a central channel and to further automate service and information processes.
Future-proof ITIL platform for efficient service
"With EcholoN we have created an integrated service platform that gives us a high degree of transparency, efficiency and security. We are not only able to implement process improvements very easily and ITIL-compliant via the EcholoN portal, we can also implement clean interfaces with manageable effort, integrate new technologies or in future also use mobile clients with checklists for error analysis on site. Reminder functions make day-to-day business easier to manage and monitor tasks or processes, and communication / approval workflows can be tailored very flexibly to our actual needs", Thorsten Lang sums up.
All correspondence, activities, process-relevant documents and status changes now run together in one integrated tool, which also significantly simplifies reporting and control of the service processes. What are the processing times of the processes, in which areas and with which devices are there the most inquiries, what causes can be derived for this and how can these problems be solved fundamentally? Building on a central database, all of these questions can now be processed in a very transparent and flexible manner.
Further milestones in planning
EcholoN is used at HORNBACH in IT service with almost all functionalities and modules. Today, 240 help desk technicians access the service platform every day, which they use to support all of the 17,500 IT users in the 154 HORNBACH company branches in Germany and abroad.

At the same time, a knowledge database is being set up to promote knowledge transfer and support employees in solving problems. The self-service portal is also planned to be available in English over the next few months. Further expansion stages include the connection of the telephone system (CTI - Computer Telephone Integration) and the introduction of EcholoN as a help desk in the area of logistics.