News channel N24 ensures IT operational readiness with the help of EcholoN
Fast and reliable IT support is of crucial importance for N24 Media GmbH. Disruptions in IT and operational processes are very critical for the market leader among German news channels N24. N24 Media GmbH, which also provides the news for the entire ProSiebenSat.1 Media AG, and its IT service partner Procs GmbH & Co. KG Services rely on the professional ITService Management Suite EcholoN for fast IT support and maximum operational readiness of their IT systems.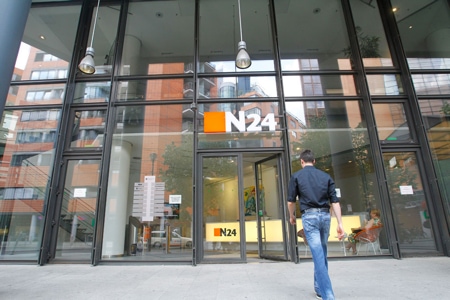 "The ticket and service desk system used so far reached its limits in several respects: Too complicated a user interface to record the malfunctions and too long provision of the malfunction information to the technicians made compliance with the specified SLAs with the old system scarcely, and above all not effectively possible", explains Thorsten Prohm, Managing Director of Procs GmbH & Co. KG, which, as the IT service provider responsible for operations, ensures the operational readiness of all of the TV station's IT.


"The old system was an add-on module of the previous N24 infrastructure software. This holistic approach has certain advantages from an IT perspective, of course, because you are in a completely closed environment. However, it has been shown in practice that it was simply not up to our complex requirements. The ongoing adjustments of the workflows to our specific circumstances and processes were also simply too complex and too expensive. We therefore decided to replace our system with a powerful, fast and at the same time flexibly configurable Service Management Suite, which was also designed for service."
The highest requirements for ticket and incident management systems
The new software not only had to meet the high demands of the IT service provider with regard to speed and information provision in order to comply with the strict Service Level Agreements (SLAs), but also to meet the special requirements of N24 broadcast technology. At N24, for example, classic IT malfunctions are initially recorded and systematically recorded by a service technician. If the fault cannot be remedied in the first step, a service ticket is created and forwarded to a further 2nd level support for processing. Broadcast or television broadcast interference, on the other hand, is extremely critical for television operations and must be dealt with within two minutes in accordance with SLAs. In these cases, systemic recording and organizational details have to be treated fundamentally differently. In addition, malfunction information must be transmitted to all technicians immediately and at the same time - be it via fat, web or mobile clients.

The new system should also be easy to use and have a certain flexibility when it comes to ticket distribution to service technicians, e.g. through the establishment of mail groups. The connection of monitoring environments was also a central criterion in the decision-making process.
Only EcholoN offered the necessary level of maturity
The core requirements were finally compiled in a catalog of requirements as the basis for the further processes. This was followed by an in-house research with the creation of a so-called long list of possible providers. The timely IT trade fair CeBIT was then used for detailed discussions and further software presentations.
"In the end, however, it soon became clear that only EcholoN could be considered for us and the N24 colleagues. EcholoN not only works according to today's ITIL standard, but also gives us a comfortable development framework that our developers can use to make adjustments to the software themselves. In spite of our adjustments, it remains a standard product and full releasability is retained for subsequent updates. This was a very important aspect for us in order to avoid unnecessary follow-up costs and to guarantee investment protection", continues Thorsten Prohm.
Effective 24x7 IT support at N24
There was only a period of five months between the decision to introduce a new IT system to support the IT service processes, the actual selection process and the start of EcholoN in live operation in July 2012. The actual introduction of EcholoN was even implemented in just five weeks.
In the course of the EcholoN introduction, individual processes (e.g. in the area of ​​ticket handling) were also reorganized. At Procs, you now have the option of proactively integrating the requester or malfunction indicator into the solution approach and the further flow of information using a feedback loop. If, for example, an operation or a ticket has been completed from a technical point of view and identified as such in the system, the N24 employee receives a corresponding message. The malfunction indicator can then check to what extent the malfunction has actually been remedied in his sense and, if necessary, can either reopen and comment on the process or finally close the process.
With the new self-service portal, EcholoN also offers the N24 employees a convenient information platform to inform themselves at any time and interactively about the current processing status of inquiries and the current level of support. With the help of the EcholoN self-service portal, Procs was able to noticeably reduce telephone inquiries in support and use resources that were freed up for faster ticket processing. An integrated knowledge database supports the qualified elimination of faults already in 1st level support.
With EcholoN, the responsible service manager is not only able to better adapt shift planning and resource management to the current level of support, but can now also effectively meet the strict SLAs, which was previously not possible with the predecessor system. Thanks to the flexible and mobile usability of EcholoN, the service technicians can move around freely with their mobile devices and have full system access at all times.

"EcholoN is simply a full-grown and well thought-out IT service system that, based on years of experience in service practice, is simply very mature and very close to actual customer needs", sums up Thorsten Prohm. "In retrospect, we should have tackled the system replacement and introduction of EcholoN much earlier. Our service solution today would have saved us a lot of effort, costs and headaches in the past. EcholoN will initially only be used for our largest customer N24, but due to the positive experience, the roll-out for other project customers is also planned for the future."

In a first phase, Procs and N24 successfully used EcholoN for incident management. The EcholoN Problem Management and EcholoN Change Management modules were also introduced in the first half of 2013.